Dear friends,
Many grains are now off the list with people going gluten free. Harry Balzer of the NPD Group states that at least if not more than 1/3 of Americans are trying to avoid gluten if not more. http://www.npr.org/sections/thesalt/2013/03/09/173840841/gluten-goodbye-one-third-of-americans-say-theyre-trying-to-shun-it
So with that said, oatmeal, barley, rye, wheat, ( tabouleh), matzoh, Kamut, are out the window and gone from the pantry.
If you've been having steel cut oats for breakfast hoping to increase fiber, reduce cholesterol, or even minimize chances of heart disease and cancer or you are simply tired of eating quinoa here's a new alternative- "Amaranth".  It's actually the seed of the plant, considered to be cereal like, not really a grain but can be cooked like a grain. In Sanskrit amaranth means "denying death" or immortality that's compelling in itself. It is also good for all body types.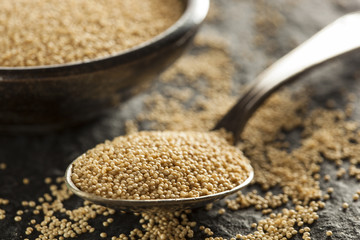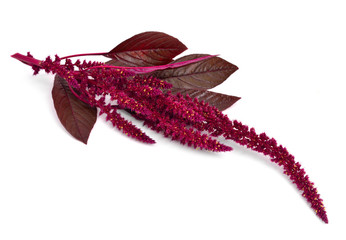 Here are five facts:
Amaranth is the most protein rich food of any plant food- A whopping 28 grams per cup- twice the amount in milk, beating quinoa, and even meat. One cup of rice only equals 13.1 grams of protein.
Higher in fiber, calcium, manganese than any other grain- one cup contains  15 grams of iron compared to 3 grams of white rice.
Uniquely high in Lysine which is an amino acid that helps the body recover from surgery, sports injuries and increase calcium absorption.
A powerful antioxidant which minimizes oxidative stress.
One of the highest grains in fiber content making it a superfood – fighting heart disease, cholesterol, and cancer.
Lastly, it's gluten free!
A simple breakfast porridge recipe:
Cook one cup amaranth grain with 2 and 1/2 cups water- Bring water to boil, add grain and a pinch of pink salt- lower heat and cook for twenty minutes. Top with ghee or chopped nuts, berries or soaked raisins- ( anything you like really)- Sweetener optional. Grain will appear mushy- that's when it's ready.
Amaranth can also be used to instead of tabouleh .http://www.myrecipes.com/recipe/tabbouleh-style-amaranth-salad
Special for the Month of April
90 minute Ayurvedic Consult regularly $225 now $175. Ayurveda can help you lose weight naturally, support your self-care process through seasonal eating, herbs, and essential oils. A brief Marma therapy will be included in this unique session. You will leave with a path to wellness customized to your needs and lifestyle.  Call Now 404-528-1483
FREE 15 minute consults Tuesdays at 6 pm at the Spa- any questions about my services? Questions on how your health concern can be addressed? Want to learn more about Marma or Ayurveda?
Schedule at 404-528-1483
Reminder, In the space between the breath you can let go and simply become present. Feel the ease of that space. Everyone has no time but there is time for a "pause".
Essential Oils Roll Ons in support of the seasons. Visit http://gedaliahhealingarts.com/store/#!/~    – Free shipping online orders
Oils also available at Centre Spring Spa.
Please share this post with friends and family.
with warm regards,
Gedalia